Heads up Malaysian business owners. If you are a current GrabFood business merchant-partner, this posts might be relevant to you!
---
Amid the economic rage caused by the Covid-19 pandemic, Grab Malaysia launches GrabFood Small Business Programme to help small businesses adapt to the growing demand for delivery services in line with Grab's #TechUntukSemua campaign drive.
What is this initiatives about?
1. Grab Online Shop (Launch June 2021)
Think of this as wix.com or squarespace.com where businesses develop a website to drive sales purchases, Grab Online Shop helps small Grabfood merchants to have their own branded website with a unique URL as an additional sales channel. With this support channel, businesses can set up and customise their website designs and promote it on their social media channels. It also comes integrated with GrabPay and GrabRewards and delivery fulfilled by Grab's delivery-partners. Grab Online Shop will be launch in June 2021.
But wait… is this free? Grab Malaysia announced that the provided service will be FREE (0% service charge) for 6 months starting from June to the end of 2021. There will be a 10% service charge from 1st January 2022 onwards. We are unsure if there's a service fee charge if a business decides to stop using the service after the 6 months free trial.
Can I connect my own domain to Grab's branded website? – We are not sure as of now and guessing since it's free, Grab will only allow extension of sub-domains for now. (Eg. https://food.grab.com/my/WarongAyamPenyekBaru)


2. GrabFood Small Business Week
Grab will provide free delivery marketing campaign from May 25 to June 7, 2021 to raise visibility of GrabFood businesses during this MCO 3.0. This initiative will spotlight and feature small business on the superapp thus driving more traffic and sales to peniaga kecil.
3. Free GrabFood Small Business Webinar
Enhance your digital skills and equip your business with tips and insights about maximising online presence through Grab's platform tools and convert data into insights to drive more traffic to your store. These educational resources are free and should provide some values to small business.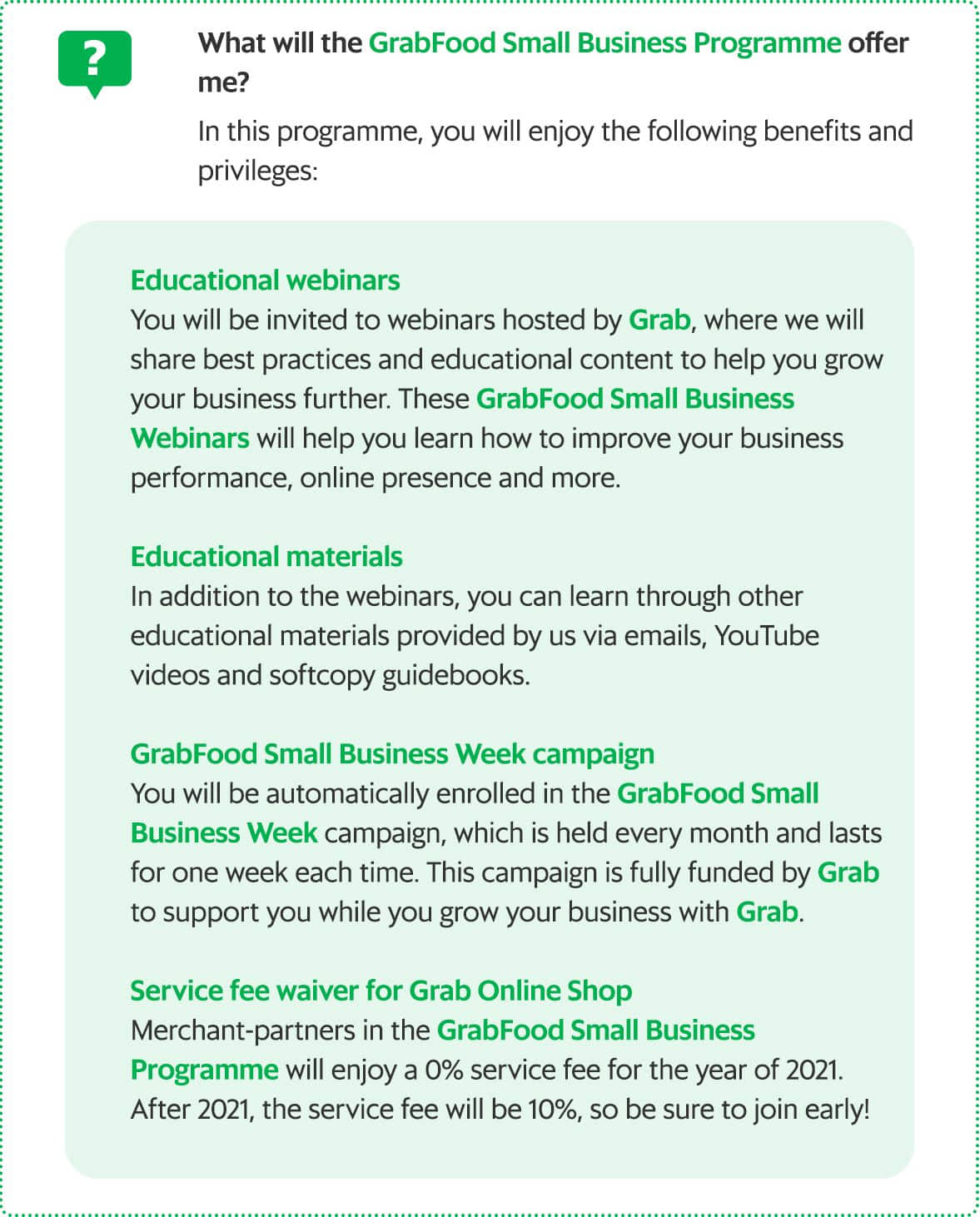 Great! So how do I know if I am eligible and qualify for this campaign?
Okay… since you have reach this point of the post, let's dive in deeper and see if you're qualify for this campaign. Grab Malaysia has list down some requirements before GrabFood business can enrol into the program.
1. More than 50% of items of Store Menu has photos and descriptions
If you have not already done so, it's time to update your store menu with food pictures and descriptions of what you're offering. Use a smartphone to snap clear food pictures and keep them description precise and clear.
2. More than 50% of items on the Store Menu are available.
If you foresee a sell-out of certain items, try removing unpopular items from the menu to achieve a 50% availability rate.
3. Online operating hours of at least 20 hours a week
This should be easy to achieved. Go online 5 hours/day for 4 days and you're done!
4. Sales on the GrabFood App of less than MYR30k, recorded at SSM operating entity level and averaged over the last 3 completed months.
Grab has made it clear that this campaign only applies to Small Business merchant-partners to avoid abuse. If your business sales exceed MYR30k/month, you are NOT qualify!
5. Not part of a franchise that has overall sales of more than MYR30k per month at brand level
Ready to sign up? Register your early interest here NOW!
Wait.. there's more! Grab also offers lower service fee for a Self Pick-Up option lets more consumers discover your store and place orders that they can pick up themselves. If your store has not opted in for GrabFood Self Pick-Up yet, you can submit your details here.